GB No. 4, spring 1991
---
FOUNDATION FOR ECOLOGICAL ALTERNATIVES
The Foundation for Ecological alternatives has been set up by a group of people gathered round the "Pusty Obłok" (Empty Cloud) publishing house, and the "i" (and) monthly.
Our aims are:
to collect and spread information on all kinds of alternative movements in Poland and other countries;
to shape ecological consciousness;
to cooperate with Mother Earth instead of exploiting her thought lessly.
Our Foundation started its activity in the "Tęcza" (Rainbow), Suzina 6 in Warsaw, where the Center for Alternative Culture was recently created. We want "Tęcza" to be a place for various undertakings and activities aimed at ecological education. Soon we shall start a computerized center to gather information on the various ecological groups and their initiatives in Poland. The foundation is going to publish a Guide to Alternative Movements in Poland containing information about all ecological, self-educational, feminist, non-violence, conscientious objectors and other groups and informal organizations in Poland. The Guide will provide its readers with full information about what is going on in alternative movements in our country.
We are also interested in:
all kinds of common ecological initiatives;
the exchange of information and publishing materials.
Finally there is now an initiati- ve trying to network between the many alternative groups in Poland. They want to establish numerous contacts with other countries. We are also counting on you.
Fundacja Ekologicznej Alternatywy,
Zamek Ujazdowski,
00-461 Warszawa,
Al.Ujazdowskie 6 p. 19
phone 281271 w. 15
or
01-586 Warszawa,
ul.Suzina 6
phone 337958, 330451.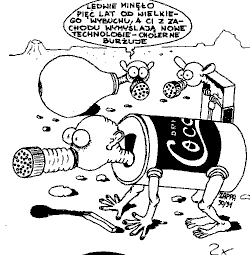 A short 5 years since that huge explosion,
and those Wewsterners have thought up this new technology...
damned bourgeoisie!
---
GB No. 4, spring 1991 | Contents